| | | |
| --- | --- | --- |
| | Categories | |
| | | |
| --- | --- | --- |
| | Quick Find | |
| | | |
| --- | --- | --- |
| | Manufacturers | |
| | | |
| --- | --- | --- |
| | Information | |
| | |
| --- | --- |
| Promotions/Special Offers and Events | |
» We Can Ship EMS with LiPo Battery Inside!!
We understand that shipping your order with commerical couriers (e.g. DHL, UPS, Fedex) may not be a good idea for your local customs clearance. We can now ship your order with LiPo battery with EMS! The EMS parcel will be delivered through the normal postoffices, therefore very less chance to get customs problems:

- Locations like Brazil, Turkey, Pakistan, India, Malaysia, Indonesia, etc which usually have big problems with customs clearance. EMS is the best way for you to ship RTF kits(such as DJI Phantom) to your door
- Russia cannot take commerical couriers parcels. So our EMS is a great way to deliver RTF kits(such as DJI Phantom) to your door
- EMS does not measure on size/volume weight, so it is cheap for shipping bulky but lightweight products
- EMS CAN only deliver LiPo battery equipped inside the product (max 6S 10000mAh). We CANNOT ship raw big LiPo batteries with EMS.


» Free Upgrade EMS to Courier Express, Receive Your Orders Next Day!!

Too late to order the gifts for you and your friends? No worry, we upgrade your EMS orders to ship with International Courier Express, you can receive it as fast as next day. Couriers provide a very fast and safe way to ship your orders. You can track the detail status of your parcel all the way from our warehouse to your door, with almost NO custom/tax clearance problem. Please see below for the conditions of this free upgrade offer:


- order with only spare parts, no RTF or Kit or Cabin/Canopy
- order with any single multirotors/helicopters RTF/Kit + small spare parts
- order with a single or more micro-size Walkera helicopter RTF/Kit (can include also small spare parts)
- most of the RC711 Digital products are eligible for free courier upgrade
- we will compare each EMS order with the courier's volume weight, once matched, we will free upgrade the order for you
- couriers can avoid problems with Italian custom, we usually upgrade to courier express for all our EMS orders to Italy
- we cannot upgrade for order sends to courier's remote/extended areas, you may check your shipping address here.
- we will choose to ship which courier company for you based on the conditions (e.g. lead time, custom issue) of your shipping location

* There is NO option for you to choose DHL/UPS shipping during checkout, please choose Express Mail Server and we will do the free upgrade for you automatically.

Note: this offer covers most of the Euorpean, American, Asian & Australian locations. However because courier shipment is limited by the volume weight (size of the parcel), RC711 reserves the right for the final decision this upgrade offer. Thank you very much!
Below are the ended promotions
» CNY Special! FREE Chinese Drama Figure Pen! *Promotion Closed






KUNG HEY FAT CHOY! To celebrate the Chinese New Year 2013, Year of Snake, RC711.com prepares a very nice Hand Painted Chinese Drama Figure Pen for the orders with amount over US$250 (or equivalent). The Figure Pen with different famous Chinese Drama Characters, each are very nice and detailed, we will randomly select the character and ship with the orders.

RC711.com wishes you a Healthy and Prosperous Year in 2013! Happy New Year! :D
» FREE World Cup Souveriers/Gifts for Orders over $50! *Promotion Closed















Starting from 8 May 2014, RC711 customers will receive a complimentary yet memorial World Cup gift for any order over US$50 or equivalent amount in other currencies. Gifts include very nice mascot (Fuleco) and World Cup Brasil logo keychains! Sure you will love them! While stock last! Don't let those gifts slip through your fingers.


» Upto 20% Discount on Shipping Cost Worldwide! Only in Chinese New Year! *Promotion Closed

















*this promotion was ENDED on 19-Feb-2013 00:00 HKT, Asia time. 18-Feb-2013 11:00 PST, America time. 18-Feb-2013 11:00 17:00 CET, Europe time.

Chinese New Year is coming! To celebrate this festival season, we are giving out free Chinese Drama Figure Pen for any order over US$250 (or similiar in other currencies). Even more, we keep our always lowest pricing unchanged yet offer you shipping discount upto 20% off for any order made at our website! So, act now, and start shopping your favorite products.

- unlike other online stores offering free shipping, we did not increase our products price and weight to offer this shipping discount. Instead we didn't change anything but cut the shipping cost for you to enjoy the real money saving shopping during the XMas season!
- we offer shipping discount for all shipping methods, the discount is automatically calculated for your order depends on different shipping methods:
- Registered Small Packet, the shipping discount is 20%.
- Air Parcel, the shipping discount is 20%.
- EMS / DHL, the shipping discount is 10%.
- you can always check the discounted shipping costs on the right side of the screen by adding the products to your shopping cart, no login required.
- we do not delay to ship out orders because of low shipping cost. Free DHL upgrade for EMS orders offer is still valid.
- this promotion starts on 11-Jan-2013 00:00 HKT, Asia time. 10-Jan-2013 11:00 PST, America time. 10-Jan-2013 11:00 17:00 CET, Europe time.
- we reserve the right to the final decision of this promotion.
| | | |
| --- | --- | --- |
| | Currencies | |
0 items
| | | |
| --- | --- | --- |
| | Shipping Cost | |
Add a product into your shopping cart to check the shipping cost here.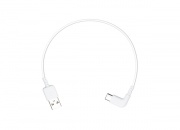 DJI Inspire 2 Part25 - Remote Controller TYPE C TO STANDARD A CABLE(260mm)(For P3A,P3P ,P4 ,P4P ,Inspire Series)
US$7.00
US$5.00
| | | |
| --- | --- | --- |
| | Bestsellers | |